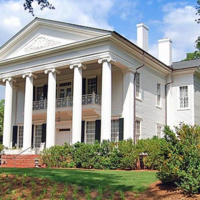 Oak Hill and the Martha Berry Museum
The Martha Berry Museum was dedicated on October 7, 1972, the result of a gift from Mary Reynolds Morton, who recognized a need for a museum to house Berry's impressive art collection. Today, the Martha Berry Museum's timeline exhibition details the history of the Berry Schools and contains dozens of rare photographs and artifacts. Traveling art exhibitions are hosted regularly. The Martha Berry Museum is open Monday through Saturday from 10am to 5pm, and guided tours are available.
Place Type

Historic

Website

Presient and Mrs. Briggs invite all Berry Faculty & Staff, Berry Elementary School, Berry Child Development Center and Winshape Retreat/Center to an...
Recent Events