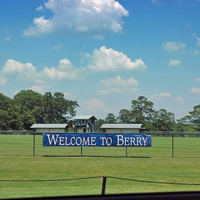 Ford Athletic Fields
The Ford Athletic Fields are located behind the Ford buildings. The fields consist of the intercollegiate practice fields, Bowdoin Baseball Field, South Ford Softball Field and intercollegiate soccer fields.
The Intercollegiate practice fields were the host of the 1994 and 1995 NAIA Women's Soccer National Tournaments, Ford Field features a well-manicured, lush field that players and coaches love. It has also served as host to several conference and regional tournaments. Ford Field is adjacent to the Ford Complex on the north side of Berry's campus, Ford Field features bleacher seating and areas for fans to sit in their own favorite chairs. Restroom facilities are located just a few short yards away at the William R. Bowdoin Field, home of Berry's baseball team. Team benches are located underneath protective covering, giving players and coaches shelter from the natural elements. An elevated press box separates the bench areas, allowing media and sports information personnel the opportunity to more easily cover the cover matches. Parking is located next to the practice field, giving fans easy access to their vehicles from Ford Field.
Home to the Vikings intercollegiate baseball team, Bowdoin Field is located behind the Ford Complex. Home games and practices for the Berry baseball team are held here.
Berry's South Ford Softball Field was completed in 2009, just in time for fall practice prior to the Lady Vikings' inaugural spring season in 2010. The facility seats approximately 300 spectators and features a fully-functional press box, concession stand and restrooms on-site. The Bermuda grass surface is maintained by Berry College's grounds crew. The outfield foul poles measure 200 feet from home plate down the left and right field lines, and the centerfield fence is 215 feet away.
The intercollegiate soccer fields, the home fields for the men's and women's soccer teams. The Vikings and Lady Vikings hold numerous practices, games and tournaments on these fields throughout the year.