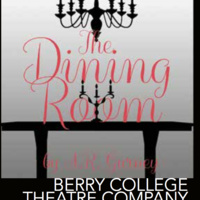 Berry College Theatre Company presents The Dining Room
Set in the dining room--or many dining rooms--Gurney's play centers on the place where the family assembled daily for breakfast, dinner and special occasions. The action is a mosaic of interrelated scenes which, taken together, create an in-depth portrait of
a vanishing species: the upper-middle-class WASP.
Showtimes: April 12-15 and April 29-22, 2018.
Thursday-Saturday at 7:30 p.m. and Sunday at 2 p.m.
Thursday, April 12, 2018
Event Type
Department

Subscribe