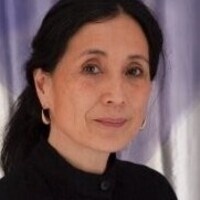 Artist's Talk with Junco Sato Pollack
Artist Junco Sato Pollack will discuss the textile work displayed in her solo Moon Gallery exhibition, Art Textiles. Her work is informed by her studies of Zen and Tantric Buddhism combined with yoga and New England Transcendentalist traditions. Her textiles link ancient methods with the latest advances
in fabric printing while often using existing formats such as mandalas and scrolls.
Monday, January 7 at 5:00pm to 6:00pm
Moon Building, Moon Gallery
Event Type
Department

Subscribe