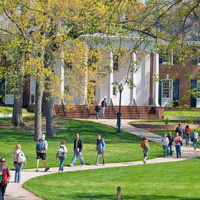 Evans Hall
A part of Evans Hall was formerly called the Mothers' Memorial Building, in memory of the donors' mothers. After some years as a girls' dormitory, the building was converted into faculty apartments, and later into a classroom-office building. Several original features of Mothers' Memorial Building foyer have been preserved, including the curving staircase, arched doorways and polished floors of wide, pegged boards. It now houses the Evans School of Humanities, Arts and Social Sciences and includes classrooms, faculty offices, a computer laboratory, a foreign-languages laboratory, and the media center.
Place Type

Academic and Administrative

Website

Georgia Tech's Ron Arkin has called for the development of fully autonomous "warbots" that would select targets and proceed to engage them without human...


Recent Events